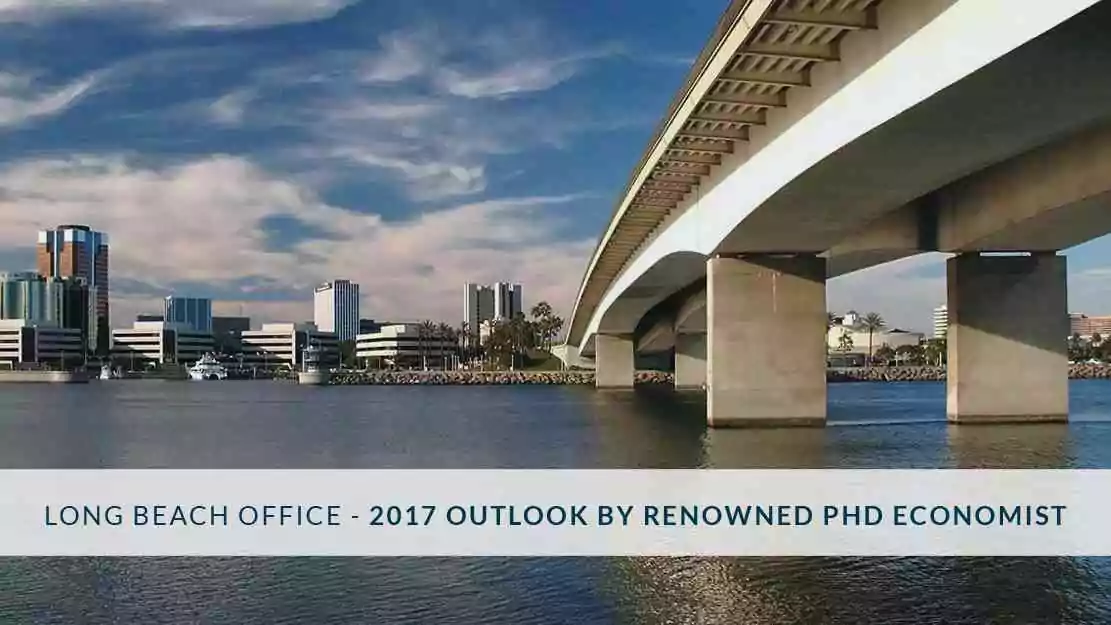 'Solid Momentum' To Continue Into 2017 Long Beach – South Bay Office
Beacon Economics Executive Director Robert Kleinhenz, PhD. comments on the start of the market. 
Demand for Office Space in Long Beach and the South Bay area remained strong last 
year, as new tenants filled up renovated vacant spaces.  Existing tenants expanded 
footprints in downtown and suburban submarkets. Trends of a tightening market, 
including falling vacancy and rising lease rates, are expected to continue into 2017 according to local sources
.
According to Christopher Thornberg, an economist and founding partner of Beacon Economics, 
recent market trends are positive, with growth in consumer spending, 
employment and business investment. He said 2016 saw a roughly 2.5 percent net 
growth rate for U.S. gross domestic product (GDP) and this year will see similar 
economic output.
"Recent trends are good," quotes Thornberg. "Consumer spending is continuing. Labor 
markets are tight. Wages are up. The slowdown from exports and a contraction in 
mining has hit bottom and is starting to come back. Corporate profits are back too. In 
other words, there's a lot of indicators that we're coming out of 2016 with solid 
momentum." 
Kleinhenz states,  "It's still too early to tell how policy changes from President Donald Trump's 
administration will impact the economy.  The transition has created market 
uncertainty."
As for the local economy, the Los Angeles area remains on a positive trajectory with
1.6% growth and demand for a 
desirable environment for thriving industries

, Thornberg said.
Despite changes over the last few decades, Long Beach's economy continues to be
driven by healthcare, aerospace, tourism, hospitality, logistics,
professional business services, legal, architectural and engineering. 
According to Robert Kleinhenz Phd, executive director for Beacon Economics, industries most
prevalent in Long Beach have recently seen employment gains and should see more 
hiring and expansion in 2017 as long as the economy continues to grow.
"To the extent that the economy is growing, those industries ought to see hiring and
expansion [in 2017]," he said, noting that Long Beach's unemployment rate is currently
5.2 percent, down from a 6.2 percent the year prior.
The fastest growing industry in Long Beach has been healthcare, Kleinhenz said, noting 
that Molina Healthcare in particular has grown substantially with large staff increases.
Growth has been driven by the Affordable Care Act and proximity to healthcare 
facilities, he said.
Though jobs were lost due to the closure of Boeing's C-17 manufacturing plant, 
aerospace still thrives locally, Kleinhenz said, noting that Virgin Orbit, Gulfstream and 
subcontractors have taken up space at Douglas Park near Long Beach Airport. 
Long Beach should also see more tech firms, he noted, adding that the city has
positioned itself to attract the tech industry that often provides high-paying jobs in an 
eco-friendly environment.
Kleinhenz added that, although other parts of the South Bay market are seeing vacancy 
drop faster, vacancy in Long Beach should continue to fall while lease rates rise this 
year.